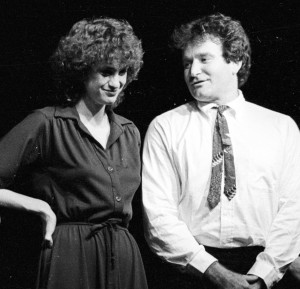 I'll never forget the night that Robin Williams walked into our theater at Chicago City Limits and asked us if he could perform with us. It was in 1983 when he was in New York City shooting Moscow on the Hudson. As you might imagine, we were surprised and thrilled. We were just getting ready to begin our Saturday night show. We had recently gotten some good reviews and the house was packed.
Robin came backstage with us as we quickly changed the running order of the show to accommodate him and his amazing skills. He loved the idea of improvising a Shakespearean play so we did a Shakespearean "Caller's Option." A caller's option is a scenic game where a cast member (the caller) stands on the side and every once in a while freezes the action and asks the audience how to continue. Unbilled and unannounced, Robin was going to make his initial entrance in a Shakespearean caller's option.
The caller got the suggestion of a song title from the audience and a cast member entered and began a Shakespearean soliloquy using that title. The job of that first cast member is to set up a Shakespearean story: the king is in trouble and I must help him or I want the throne and I am out to destroy the king – that kind of thing. The caller then freezes that action and tells the audience that the king is going to enter with news and asks what is that news? The audience supplies the news. That is when Robin made his entrance as the king.
It took the audience a few seconds to realize just who the king was. You could hear a surprise gasp starting in the front of the audience and working its way to the back. Then came the applause.
Robin was a great improvisers and he did the whole show with us improvising in scenes, songs, and stories. He was a whiz at foreign language "gibberish" and he would improvise a poem in gibberish and one of the cast members would translate. He did a conducted story with us. He did a "first line/last line" scene. It was a magical night.
And it was just the first. Robin came back every weekend. He would come on a Friday night or a Saturday night and sometimes both nights. On stage he was on fire. Off stage he was soft-spoken, almost shy. I remember him as being kind and generous. We would sit backstage and talk about life and comedy.
When I heard the sad news about his death I was shocked. Even though it had been many years since I had seen Robin I felt in some way like he was a friend. I cared what happened to him and always wished him the best. I guess that was because he had given us such a gift with his talent and generous performances on our stage. I remember his manic stage presence and his shy offstage personality. I wondered if he was unable to ever comfortably merge the two. I have heard rumors that he was bipolar but I do not know if this is the case. I only know that all of us were unable to love him enough, that, in spite of fame and fortune, he must have felt very much alone, and that makes me sad. Still, he left us with a tremendous gift – his talent and his life! How he made us laugh and what that act of generosity cost him.
This Blog can also be found on our book's website  http://www.essentialimprov.com